Wang 300 calculator system
UvA Computer Museum catalogue nr 01.16
---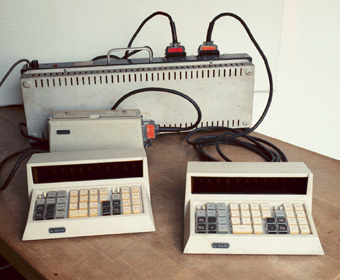 The Wang 300 multi-user calculator (1965) included an electronics box (background in the picture) and one or more desktop units with a keyboard and a numerical display. Multiplication and division were implemented using logarithms, the transistor-efficient calculation of which was based on a 1964 Wang patent. It could be programmed with punched cards which were read by a 'toaster' without any moving parts (punched holes were detected by small contact springs, one for each possible hole position). A printer (not shown) was also part of the configuration.
In 1965, the calculator, probably in a basic configuration, was priced at US$ 1700.
Click
here
for a close-up of one of the five user terminals.
---
This calculator was donated by Mr. F.G. Smakman. Unfortunately the documentation is missing, and we have not yet been able to restore the instrument to a reliably operational condition.
Part of the above information was taken from Eric A. Weiss: An Wang 1920-1990, IEEE Annals of the History of Computing 15(1993) pp 60 ff.