Calcomp 565 digital incremental plotters
UvA Computer Museum catalogue nrs 00.84 and 06.09
---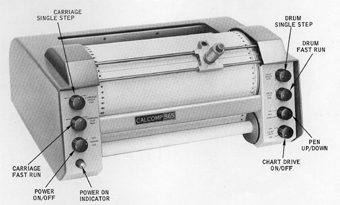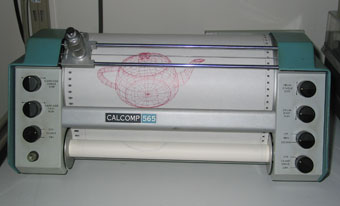 The Calcomp Model 565 (1966, also sold by IBM as Model 1627) is a drum-type XY plotter driven by step motors. Each step causes the pen to move (relative to the paper) a fixed increment (0.1 mm) in either a positive or negative direction at a rate of 250 steps per second. A solenoid permits the pen to be lifted or lowered.
When we acquired the plotter, its built-in electronics was adapted by the previous owner for connection to a PC printer port. We have carefully restored the original wiring, and we have built an external adapter for interfacing the plotter with a PC-hosted digital i/o card. A simple set of plotting routines and a driver were written in Pascal *).
Our second Calcomp 565 comes with a Model 1210 Teletype Interface. It is capable of interpreting remote plotting instructions routed to it by (or typed at) a Teletype terminal.
The lower picture shows our Calcomp 565, having completed the drawing of the famous 'Newell Teapot'.
---
This plotter has been used at the Van der Waals physics laboratory, University of Amsterdam. It was donated by Mr. A Mulder, together with a set of accessories and the original handbook.
The remote plotting installation was donated by Mr. K. van Os, The Hague
*)
Schematics and program source.