Electronic Associates Inc. Model 680 Scientific Computing System
UvA Computer Museum catalogue nr 93.56
---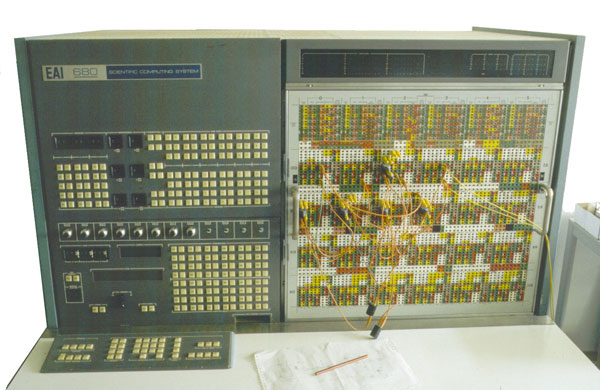 Our EAI 680 has been part of a hybrid system; unfortunately the digital part has not survived. Nevertheless the 680 is a complete analog system equipped with
120 analog modules including integrators, summer/amplifiers, limiters, function generators, multipliers, comparators and a/d convertors. These units are accessible through the removable patch panel (right).
A control & logic panel (upper part of the patch panel) containing various gates, clocks, pulse generators, relays and bcd counters.
100 servo-controllable coefficient potentiometers, plus a number of manually adjustable units on the front panel (left).
A keyboard for entering coefficients and for general control.
Lighted pushbuttons for reading and defining the state of the logical units.
A digital voltmeter with a large decimal display (bottom left).
The results of the computations can be displayed on a plotter or on a large screen oscilloscope (not shown; we don't have the original EAI units).
Our 680 machine, dating from 1968, is fully functional. The picture below shows the machine while solving the differential equation of a damped pendulum.